WWW Wednesday 1/20/16
So I completely forgot to post last Wednesday, and there is only one excuse I can give and it's not even a good one. I was so excited to get home from work and be able to try out the first episode of Shadowhunters on Freeform (or ABC Family, which it will always be to me) based on Cassandra Claire's The Mortal Instruments series, which I love. And, you guys, it was SO BAD!! (By the way, I tried the second episode last night hoping it would be better, and it was, but it wasn't good enough to stick with it, so, much to my dismay, I am abandoning it.)  So the only thing I can think is that it was so bad that I got distracted trying to cheer myself by doing fun things with my roommate that I completely forgot to post.  So, instead, here is this week's post:
This is my weekly WWW Wednesday post in which I answer three simple questions.  It is hosted by Sam at Taking on a World of Words. Go check her out, her blog is great!  Each week I will answer the following three questions about what is happening in my book world.
What are you currently reading?

What did you recently finish reading?

What do you think you are going to read next?
So, here we go.
What are you currently reading?
**A Thousand Pieces of You by Claudia Gray
**Significance by Shelley Crane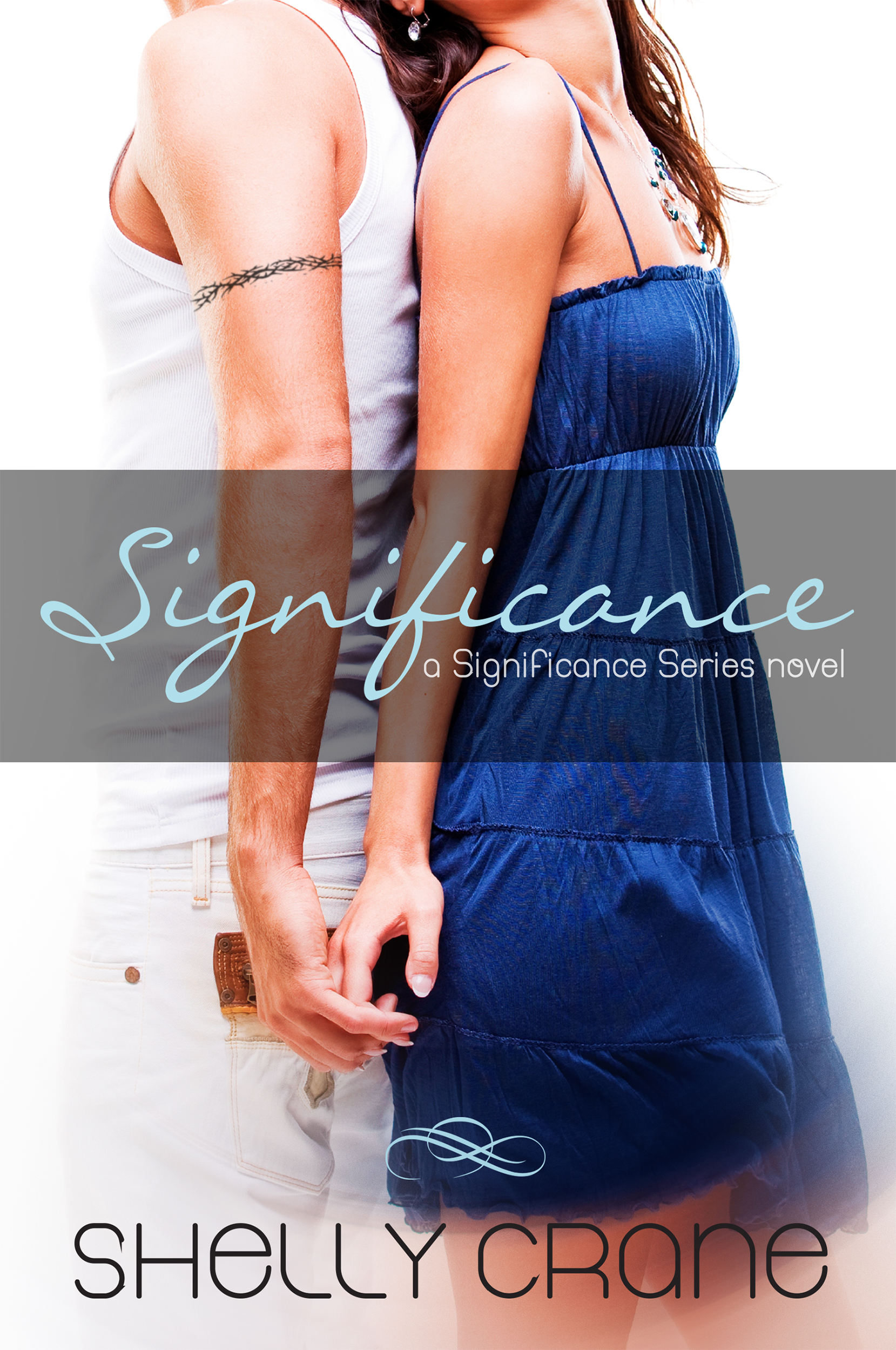 By NEW YORK TIMES and USA TODAY bestselling Author, Shelly Crane.
Maggie is a seventeen year old girl who's had a bad year. Her mom left, her dad is depressed, she's graduating, barely, and her boyfriend of almost three years dumped her for a college football scholarship. Lately she thinks life is all about hanging on by a thread and is gripping tight with everything she has.
Then she meets Caleb.
She saves his life and instantly knows there's something about him that's intriguing but she is supposed to be on her way to a date with his cousin. But things change when they touch, sparks ignite. Literally. They imprint with each other and she sees their future life together flash before her eyes. She learns that not only is she his soul mate, and can feel his heartbeat in her chest, but there is a whole other world of people with gifts and abilities that she never knew existed. She herself is experiencing supernatural changes unlike anything she's ever felt before and she needs the touch of his skin to survive. Now, not only has her dad come out of his depression to be a father again, and a pain as well, but Caleb's enemies know he's imprinted and are after Maggie to stop them both from gaining their abilities and take her from him. Can Caleb save her or will they be forced to live without each other after just finding one another?
**My Life on the Road by Gloria Steinem
So, I don't know if you guys heard that Emma Watson started a Feminist book club on Goodreads, but she did, and I decided to check it out because feminism is something that's important to me.  This is our book for January. I just started it today, but I'm super excited about it and really looking forward to discussing it.  Here is the synopsis:
Gloria Steinem—writer, activist, organizer, and one of the most inspiring leaders in the world—now tells a story she has never told before, a candid account of how her early years led her to live an on-the-road kind of life, traveling, listening to people, learning, and creating change. She reveals the story of her own growth in tandem with the growth of an ongoing movement for equality. This is the story at the heart of My Life on the Road.
What did you recently finish reading?
**To Kill A Mockingbird by Harper Lee
**Spring 2016 Penguin Teen Preview Sampler
You can find my review here.
**Keesha's House by Helen Frost
This is the new one I am going to be reading with my students starting second semester.  I'm really looking forward to discussing this one with them! Here is the synopsis (from Goodreads):
Keesha has found a safe place to live, and other kids gravitate to her house when they just can't make it on their own. They are Stephie – pregnant, trying to make the right decisions for herself and those she cares about; Jason – Stephie's boyfriend, torn between his responsibility to Stephie and the baby and the promise of a college basketball career; Dontay – in foster care while his parents are in prison, feeling unwanted both inside and outside the system; Carmen – arrested on a DUI charge, waiting in a juvenile detention center for a judge to hear her case; Harris – disowned by his father after disclosing that he's gay, living in his car, and taking care of himself; Katie – angry at her mother's loyalty to an abusive stepfather, losing herself in long hours of work and school.
Stretching the boundaries of traditional poetic forms – sestinas and sonnets – Helen Frost's extraordinary debut novel for young adults weaves together the stories of these seven teenagers as they courageously struggle to hold their lives together and overcome their difficulties.
Keesha's House is a 2004 Bank Street – Best Children's Book of the Year.
**Blood and Salt by Kim Liggett
My review will be coming for this one soon.
What do you think you'll read next?
(All synopses are from Goodreads)
I have a goal for reading for this new year.  I want to become a more well-read person this year, so I'll be expanding my horizons in regards to genres and types of books I'll be reading.  I'm pretty excited for it.
Still looking forward to reading these:
**A Clash of Kings by George R. R. Martin
Time is out of joint. The summer of peace and plenty, ten years long, is drawing to a close, and the harsh, chill winter approaches like an angry beast. Two great leaders—Lord Eddard Stark and Robert Baratheon—who held sway over an age of enforced peace are dead…victims of royal treachery. Now, from the ancient citadel of Dragonstone to the forbidding shores of Winterfell, chaos reigns, as pretenders to the Iron Throne of the Seven Kingdoms prepare to stake their claims through tempest, turmoil, and war.
As a prophecy of doom cuts across the sky—a comet the color of blood and flame—six factions struggle for control of a divided land. Eddard's son Robb has declared himself King in the North. In the south, Joffrey, the heir apparent, rules in name only, victim of the scheming courtiers who teem over King's Landing. Robert's two brothers each seek their own dominion, while a disfavored house turns once more to conquest. And a continent away, an exiled queen, the Mother of Dragons, risks everything to lead her precious brood across a hard hot desert to win back the crown that is rightfully hers.
A Clash of Kings transports us into a magnificent, forgotten land of revelry and revenge, wizardry and wartime. It is a tale in which maidens cavort with madmen, brother plots against brother, and the dead rise to walk in the night. Here a princess masquerades as an orphan boy; a knight of the mind prepares a poison for a treacherous sorceress; and wild men descend from the Mountains of the Moon to ravage the countryside.
Against a backdrop of incest and fratricide, alchemy and murder, the price of glory may be measured in blood. And the spoils of victory may just go to the men and women possessed of the coldest steel…and the coldest hearts. For when rulers clash, all of the land feels the tremors.
Audacious, inventive, brilliantly imagined, A Clash of Kings is a novel of dazzling beauty and boundless enchantment;a tale of pure excitement you will never forget.
**A Game of Thrones by George R.R. Martin
Summers span decades. Winter can last a lifetime. And the struggle for the Iron Throne has begun.
As Warden of the north, Lord Eddard Stark counts it a curse when King Robert bestows on him the office of the Hand. His honour weighs him down at court where a true man does what he will, not what he must … and a dead enemy is a thing of beauty.
The old gods have no power in the south, Stark's family is split and there is treachery at court. Worse, the vengeance-mad heir of the deposed Dragon King has grown to maturity in exile in the Free Cities. He claims the Iron Throne.
I've had this series sitting on my shelf for awhile, so I'm finally going to read it. I've been a fan of the show since it started, so I'm super excited to see the differences between the show and the novels.
I can't wait to hear what all of you are reading!  Let me know in the comments below.
Happy Reading!
Erin