WWW Wednesday 2/17/16
This is my weekly WWW Wednesday post in which I answer three simple questions.  It is hosted by Sam at Taking on a World of Words. Go check her out, her blog is great!  Each week I will answer the following three questions about what is happening in my book world.
What are you currently reading?

What did you recently finish reading?

What do you think you are going to read next?
So, here we go.
What are you currently reading?
**Earth's End by Elise Kova
I will definitely finish this one tonight! As with every book so far in the Air Awakens series, Elise pulls you into Vhalla's world with beautiful description and a wonderfully written story. Look for a review on this one coming very soon.
**Buzz Books 2016: Young Adult Spring/Summer: Exclusive Excerpts from 20 Top New Titles
This fourth edition of Buzz Books: Young Adult provides substantial pre-publication excerpts from 20 forthcoming young adult books. Now everyone can share the same access to the newest YA voices the publishing industry is broadcasting for the spring/summer season.
You will find a full range of YA titles previewed here—romance, fantasy, humor, literary and the first installment of five new series. Excerpts include new work from established giants of the field: David Levithan, Richelle Mead, Matthew Quick, and Maggie Stiefvater.
From John Corey Whaley and Kimberly McCreight to Kiersten White and Alyson Noel, this latest edition of Buzz Books: Young Adult has must-read selections from eight New York Times bestselling authors. As always, many Buzz Books are sure to make bestseller and "best of" lists.
Start reading some of the best future books right now, and then share the fun by telling your friends and family to download this free edition of Buzz Books for themselves at any major ebookstore or at www.buzz.publishersmarketplace.com.
For even more great reads, be sure to download Buzz Books 2016: Spring/Summer, also available now, for the best in adult fiction and nonfiction.
What did you recently finish reading?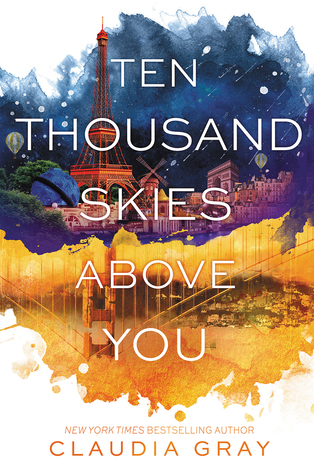 **Ten Thousand Skies Above You by Claudia Gray
Review on the Firebird series coming this week.
What do you think you'll read next?
(All synopses are from Goodreads)
**Wolf by Wolf by Ryan Graudin
The year is 1956, and the Axis powers of the Third Reich and Imperial Japan rule the world. To commemorate their Great Victory over Britain and Russia, Hitler and Emperor Hirohito host the Axis Tour: an annual motorcycle race across their conjoined continents. The victor is awarded an audience with the highly reclusive Adolf Hitler at the Victor's ball.
Yael, who escaped from a death camp, has one goal: Win the race and kill Hitler. A survivor of painful human experimentation, Yael has the power to skinshift and must complete her mission by impersonating last year's only female victor, Adele Wolfe. This deception becomes more difficult when Felix, Adele twin's brother, and Luka, her former love interest, enter the race and watch Yael's every move. But as Yael begins to get closer to the other competitors, can she bring herself to be as ruthless as she needs to be to avoid discovery and complete her mission?
**Tuesday Nights in 1980 by Molly Prentiss
An intoxicating and transcendent debut novel that follows a critic, an artist, and their shared muse as they find their way—and ultimately collide—amid the ever-evolving New York City art scene of the 1980s.
Welcome to SoHo at the onset of the eighties: a gritty, quickly gentrifying playground for artists and writers looking to make it in the big city. Among them: James Bennett, a synesthetic art critic for the New York Times whose unlikely condition enables him to describe art in profound, magical ways, and Raul Engales, an exiled Argentinian painter running from his past and the Dirty War that has enveloped his country. As the two men ascend in the downtown arts scene, dual tragedies strike, and each is faced with a loss that acutely affects his relationship to life and to art.
It is not until they are inadvertently brought together by Lucy Olliason—a small town beauty and Raul's muse—and a young orphan boy sent mysteriously from Buenos Aires that James and Raul are able to rediscover some semblance of what they've lost.
As inventive as Jennifer Egan's A Visit from the Goon Squad and as sweeping as Meg Wolitzer's The Interestings, Tuesday Nights in 1980 boldly renders a complex moment when the meaning and nature of art is being all but upended, and New York City as a whole is reinventing itself. In risk-taking prose that is as powerful as it is playful, Molly Prentiss deftly explores the need for beauty, community, creation, and love in an ever-changing urban landscape.
I can't wait to hear what all of you are reading!  Let me know in the comments below.
Happy Reading!
Erin