Goodbye and Hello: April Wrap-Up and May TBR
April Books:
I think I'm in a bit of a reading rut.  I've been having trouble reading and, therefore, finishing books.  April was definitely proof of this. I didn't finish a single book the entire month, so I'm going to go through the ones I at least started.
Tuesday Nights in 1980 by Molly Prentiss
I tried this one.  I couldn't get through. It is super rare that I don't finish books, usually I really try to power through them in spite of how bad they may be, but I just could not do it with this one. I got really, really bored. I kept expecting the story line to pick up, but there was so much character and setting development at the beginning that I just couldn't.
A Game of Thrones by George R.R. Martin
I started this one and I'm almost done with it. I'm really excited to read what's left of the series.  I'm hoping to finish it within the next couple of days.
Highly Illogical Behavior by John Corey Whaley
I got this as an ARC from NetGalley, and I'm really enjoying it. I will have a review on it this week.
May Books:
So I am going to do my best to tackle this series again this month. We'll see how it goes.  Now I'm super determined to get through it.
A Game of Thrones by George R.R. Martin
Summers span decades. Winter can last a lifetime. And the struggle for the Iron Throne has begun.
As Warden of the north, Lord Eddard Stark counts it a curse when King Robert bestows on him the office of the Hand. His honour weighs him down at court where a true man does what he will, not what he must … and a dead enemy is a thing of beauty.
The old gods have no power in the south, Stark's family is split and there is treachery at court. Worse, the vengeance-mad heir of the deposed Dragon King has grown to maturity in exile in the Free Cities. He claims the Iron Throne.
Why I want to read it: I have loved the TV show since it started, and can't wait to see what the books have in store. That, and my wonderful roommate and friend has been yelling at me about reading this series for about nine months now, so I decided it was finally time to get into it.
A Clash of Kings by George R.R. Martin
Time is out of joint. The summer of peace and plenty, ten years long, is drawing to a close, and the harsh, chill winter approaches like an angry beast. Two great leaders—Lord Eddard Stark and Robert Baratheon—who held sway over an age of enforced peace are dead…victims of royal treachery. Now, from the ancient citadel of Dragonstone to the forbidding shores of Winterfell, chaos reigns, as pretenders to the Iron Throne of the Seven Kingdoms prepare to stake their claims through tempest, turmoil, and war.
As a prophecy of doom cuts across the sky—a comet the color of blood and flame—six factions struggle for control of a divided land. Eddard's son Robb has declared himself King in the North. In the south, Joffrey, the heir apparent, rules in name only, victim of the scheming courtiers who teem over King's Landing. Robert's two brothers each seek their own dominion, while a disfavored house turns once more to conquest. And a continent away, an exiled queen, the Mother of Dragons, risks everything to lead her precious brood across a hard hot desert to win back the crown that is rightfully hers.
A Clash of Kings transports us into a magnificent, forgotten land of revelry and revenge, wizardry and wartime. It is a tale in which maidens cavort with madmen, brother plots against brother, and the dead rise to walk in the night. Here a princess masquerades as an orphan boy; a knight of the mind prepares a poison for a treacherous sorceress; and wild men descend from the Mountains of the Moon to ravage the countryside.
Against a backdrop of incest and fratricide, alchemy and murder, the price of glory may be measured in blood. And the spoils of victory may just go to the men and women possessed of the coldest steel…and the coldest hearts. For when rulers clash, all of the land feels the tremors.
Audacious, inventive, brilliantly imagined, A Clash of Kings is a novel of dazzling beauty and boundless enchantment;a tale of pure excitement you will never forget.
A Storm of Swords by George R.R. Martin
Here is the third volume in George R.R. Martin's magnificent cycle of novels that includes A Game of Thrones and A Clash of Kings. Together, this series comprises a genuine masterpiece of modern fantasy, destined to stand as one of the great achievements of imaginative fiction.
Of the five contenders for power, one is dead, another in disfavor, and still the wars rage as alliances are made and broken. Joffrey sits on the Iron Throne, the uneasy ruler of of the Seven Kingdoms. His most bitter rival, Lord Stannis, stands defeated and disgraced, victim of the sorceress who holds him in her thrall. Young Robb still rules the North from the fortress of Riverrun. Meanwhile, making her way across a blood-drenched continent is the exiled queen, Daenerys, mistress of the only three dragons still left in the world. And as opposing forces maneuver for the final showdown, an army of barbaric wildlings arrives from the outermost limits of civilization, accompanied by a horde of mythical Others—a supernatural army of the living dead whose animated corpses are unstoppable. As the future of the land hangs in the balance, no one will rest until the Seven Kingdoms have exploded in a veritable storm of swords…
Why I Want to Read the Series?
I have been a fan of the show since the beginning, and I love fantasy.  So many of my friends have recommended it to me and have been waiting for me to read it for over a year. I plan to read the remainder of the series, but I'm not sure I'll be able to get through the whole thing this month. This is the year that I'm going to tackle it despite the book series not being completed, damn you, George R.R. Martin!  Can't wait!!
The Rose and the Dagger by Renee Ahdieh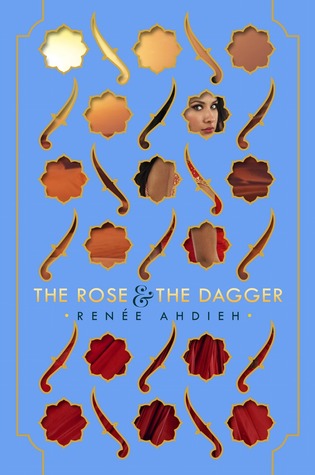 I am surrounded on all sides by a desert. A guest, in a prison of sand and sun. My family is here. And I do not know whom I can trust.
In a land on the brink of war, Shahrzad has been torn from the love of her husband Khalid, the Caliph of Khorasan. She once believed him a monster, but his secrets revealed a man tormented by guilt and a powerful curse—one that might keep them apart forever. Reunited with her family, who have taken refuge with enemies of Khalid, and Tariq, her childhood sweetheart, she should be happy. But Tariq now commands forces set on destroying Khalid's empire. Shahrzad is almost a prisoner caught between loyalties to people she loves. But she refuses to be a pawn and devises a plan.
While her father, Jahandar, continues to play with magical forces he doesn't yet understand, Shahrzad tries to uncover powers that may lie dormant within her. With the help of a tattered old carpet and a tempestuous but sage young man, Shahrzad will attempt to break the curse and reunite with her one true love. This one comes out April 26th.  I hope Amazon delivers it on time
Why I want to read it?
I have been looking forward to this book since I finished The Wrath and the Dawn, which was my favorite read of 2015! So, due to the awesomeness of the first book I have some very high expectations; I hope it rises to meet them.
A Court of Mist and Fury by Sarah J. Maas
Feyre survived Amarantha's clutches to return to the Spring Court–but at a steep cost. Though she now has the powers of the High Fae, her heart remains human, and it can't forget the terrible deeds she performed to save Tamlin's people.
Nor has Feyre forgotten her bargain with Rhysand, High Lord of the feared Night Court. As Feyre navigates its dark web of politics, passion, and dazzling power, a greater evil looms–and she might be key to stopping it. But only if she can harness her harrowing gifts, heal her fractured soul, and decide how she wishes to shape her future–and the future of a world cleaved in two.
With more than a million copies sold of her beloved Throne of Glass series, Sarah J. Maas's masterful storytelling brings this second book in her seductive and action-packed series to new heights.
Why I Want to read it?
I cannot wait for this book to show up in my mail on Tuesday this week! I'm so ready to dive back into the story of Feyre and Tamlin.  
What are you guys reading this month??
Happy Reading!
Erin