WWW Wednesday 7/26/16
This is my weekly WWW Wednesday post in which I answer three simple questions.  It is hosted by Sam at Taking on a World of Words. Go check her out, her blog is great!  Each week I will answer the following three questions about what is happening in my book world.
What are you currently reading?

What did you recently finish reading?

What do you think you are going to read next?
So, here we go.
What are you currently reading?
**A Clash of Kings by George R. R. Martin
This one is moving a little slow for me, but I'm really going to try to stick with it. I guess we'll see what happens.
**Throne of Glass by Sarah J. Maas
This series has been sitting on my bookshelf for 9 months, and people, in particular, my awesome sister, have been bugging me for years to read it, so I finally am. I'm super excited to have finally started it.
**Devour by Shelly Crane
This one I started only because I wasn't home, and it was one of the few times I left the house without a book that I had already started, and all I had was my Kindle.
What did you recently finish reading?
**The Hazards of Skinny Dipping by Alyssa Rose Ivy
I picked this one up as a bit of a break from A Clash of Kings. It's NA Romance. I'm getting into these more because they are entertaining and easy reads. This one drove me crazy! The main character was weak and gave into the guys she was seeing. She seemed to have no backbone The male characters were misogynistic and controlling. I felt like I was cringing and yelling at the characters every couple of pages, but I stuck with it because it was easy and entertaining. I almost got to the point where I DNF'd it, but not quite.
What do you think you'll read next?
(All synopses are from Goodreads)
**Crown of Midnight by Sarah J. Maas
From the throne of glass rules a king with a fist of iron and a soul as black as pitch. Assassin Celaena Sardothien won a brutal contest to become his Champion. Yet Celaena is far from loyal to the crown. She hides her secret vigilantly; she knows that the man she serves is bent on evil.
Keeping up the deadly charade becomes increasingly difficult when Celaena realizes she is not the only one seeking justice. As she tries to untangle the mysteries buried deep within the glass castle, her closest relationships suffer. It seems no one is above questioning her allegiances—not the Crown Prince Dorian; not Chaol, the Captain of the Guard; not even her best friend, Nehemia, a foreign princess with a rebel heart.
Then one terrible night, the secrets they have all been keeping lead to an unspeakable tragedy. As Celaena's world shatters, she will be forced to give up the very thing most precious to her and decide once and for all where her true loyalties lie… and whom she is ultimately willing to fight for.
**Heir of Fire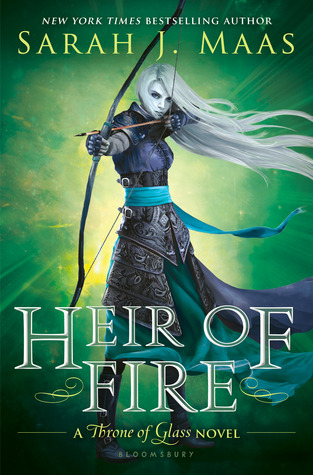 Celaena has survived deadly contests and shattering heartbreak―but at an unspeakable cost. Now, she must travel to a new land to confront her darkest truth . . . a truth about her heritage that could change her life―and her future―forever. Meanwhile, brutal and monstrous forces are gathering on the horizon, intent on enslaving her world. Will Celaena find the strength to not only fight her inner demons, but to take on the evil that is about to be unleashed?
The bestselling series that has captured readers all over the world reaches new heights in this sequel to the New York Times best-selling Crown of Midnight. Packed with heart-pounding action, fierce new characters, and swoon-worthy romance, this third book will enthrall readers from start to finish.
I can't wait to hear what all of you are reading!  Let me know in the comments below.
Happy Reading!
Erin